3rd – 5th grade
Our children's ministry for elementary students in 3rd, 4th & 5th grades meets Sunday evenings from 5pm-7:15pm.
Together as a group, there are games that can definitely cause you to break out in a sweat as well as time for group discussion on a variety of topics. There are also regular trips to our local 'Shaved Ice' stand where we fellowship with tasty treats!
This group consistently shares a serious time for prayer at the closing of each meeting and they engage in worship / devotional once a month. Also, don't forget to look at the camps & retreats information for details about the annual 3rd-5th grade camping retreat, it is by far the highlight of the year!
6th-8th grade

Our student ministry for all teens in junior high, including grades 6th, 7th, and 8th. Their regular meeting time is Sunday evenings from 5pm-7:15pm. While they are together they do many different things, including team building activities, games, time for prayer, and a curriculum that engages the students to develop their faith in Christ through music, music videos, or movies. We have three adult sponsors that lead this group of young people and they all have hearts to serve and love!
Our middle school also incorporate continuous acts of service into their lives throughout the school year. In the past, the group has gone to help an area animal shelter care for the animals but they have also gathered supplies and filled bags with items to give away to those in need.
Middle school also gathers for Sunday school in between our worship services, from 10:15am-11:15am on Sunday mornings. This class is taught on a monthly rotation by congregants invested in the spiritual growth of our youth. The topic is scriptural and changes with the season and teacher. These are valuable moments where our young people can learn about the authentic spirit of their peers. We dig into scripture and encourage conversation about active Christianity that will begin to revolutionize our world with the Love of Christ!



9th-12th grade
We also have a place for all young men and women in high school, including grades 9th-12th. Their regular meeting time is Sunday evenings from 5-7:15pm . The evening always includes a snack supper to begin but can then range from a variety of activities and directions.
We strongly encourage fellowship with other youth groups, and so there are many times when we travel to join other high school youth groups to play kickball tournaments, engage in worship together,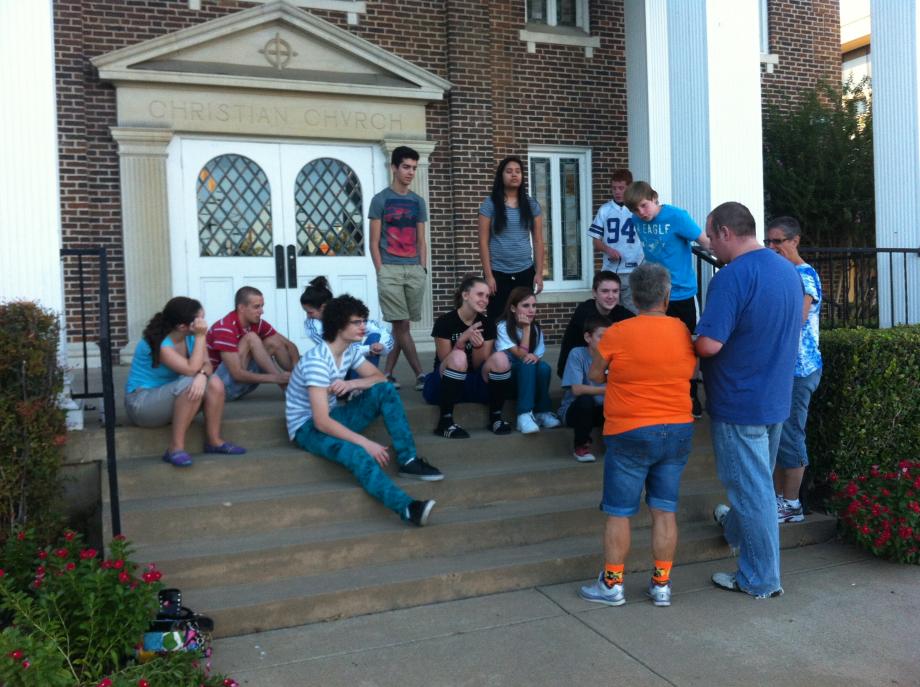 etc. Many weekends we have also split up the time to include a fun, game activity in the beginning and then transition into a worship setting or a discussion / devotion where the group engages in conversation. We also end each week with a time of prayer, where we share with one another our own hearts and also pray for others. We have four faithful adults who guide and nurture this group of young men and women with lots of laughter and love for Christ!
As service is included in our vision statement, the high school group approaches different opportunities to serve throughout the school year. The opportunities are not consistent and come at different times during the year, due to the crazy schedules of most young people! In the past, we have gone to serve "The Stew Pot" in downtown Dallas, which is an organization which feeds the hungry and also offers a Saturday gathering for all children from the downtown area. We have also helped Jonathon's Place which is a facility that houses children with HIV-AIDS. Our experience has proven that when you feed one another, your soul is fed in indescribable ways! High School gathers for Sunday school from 10:45am-11:15am. This class is taught in rotation by faithful servants from our congregation. The study for our high school teens varies but has ranged from a survey of all the world religions to a new curriculum called, The Wired Word, whether they read current news article that relates to the post-modern culture and then discuss ethical questions that lead them to scripture. These moments prove to be an incredible opportunity for mature growth in their faith journey.
Wednesday Night Fellowship
Every Wednesday during the school year, our high schoolers and young adults meet at a local fast food restaurant for fellowship and a devotional. We meet from 6-8pm. This fellowship opportunity is not just for our youth. We also meet with the youth from First Christian Church Rowlett. We joined Wednesday night studies to encourage relationships between our two churches. Our youth groups see each other at camp and retreats, but often don't hangout when we are back home. Wednesday Night Fellowship helps deepen our faith as we explore Scripture together.